---
Flake coatings are a durable, customizable system that can upgrade the look of any concrete flooring and are used in high traffic areas in industrial, commercial, and residential use alike. This decorative coating is also an aesthetically pleasing and more cost-effective option than installing hardwood, pre-engineered flooring granite, or terrazzo tile.

Flake coatings systems have a high appeal with designers, contractors, homeowners, and architects. Our flakes are specially formulated paint aggregates used to give added resilience, beauty and enhance the ergonomic qualities of our resins in the use of floor coating systems.
The cost of the flake coating system will depend on the size of the surface that you want to coat and how much flake coverage you are trying to obtain.
---
---
Epoxy flake flooring seals the concrete floor, providing a barrier over the concrete, making it more scratch, stain, chemical, and abrasion resistant.

---
---
Our flake flooring system includes an option of pigment to be added to the epoxy. As the pigment adds opacity, whether a single or a double broadcast system is used, the coating still has an exceptional, eye-catching appearance. With an array of flake and pigment colours, there are endless colour combinations. Each coating will give a unique, one-of-a-kind look to your home or commercial building.
---
Liquid coatings have a seamless 'Wall to wall' application. Not only does this hide most imperfections in the flooring, but it also allows the allowing the floor to be easily cleaned by simply washing with a hose or with chemical cleaners.
---
One of the benefits of flake flooring is its organic look. Our flakes are available in several sizes. Small flakes are relatively uniform in shape. Large sizes are more random in shape, accentuating the individual flake colors and giving more dimension to the finished floor.
Flake floor coatings are ideal for:
Garages
Mechanic Bay
Cafeterias
Hospitals
Laundromats
Bars and restaurants
Basements
Bowling Alleys
Grocery Stores
Hallways
Schools
Garage Floors
Showrooms
Stadium Hallways
Pet Stores
Pharmaceutical Plants
Car Dealerships
Laboratories
Banquet Halls
Public Municipalities
Corporate Offices
Restrooms
Animal Shelters
Salons
Skating Rinks
Food Processing Plants
Veterinary Clinics
Hospitals
Restaurants
Commercial Kitchens
Bathrooms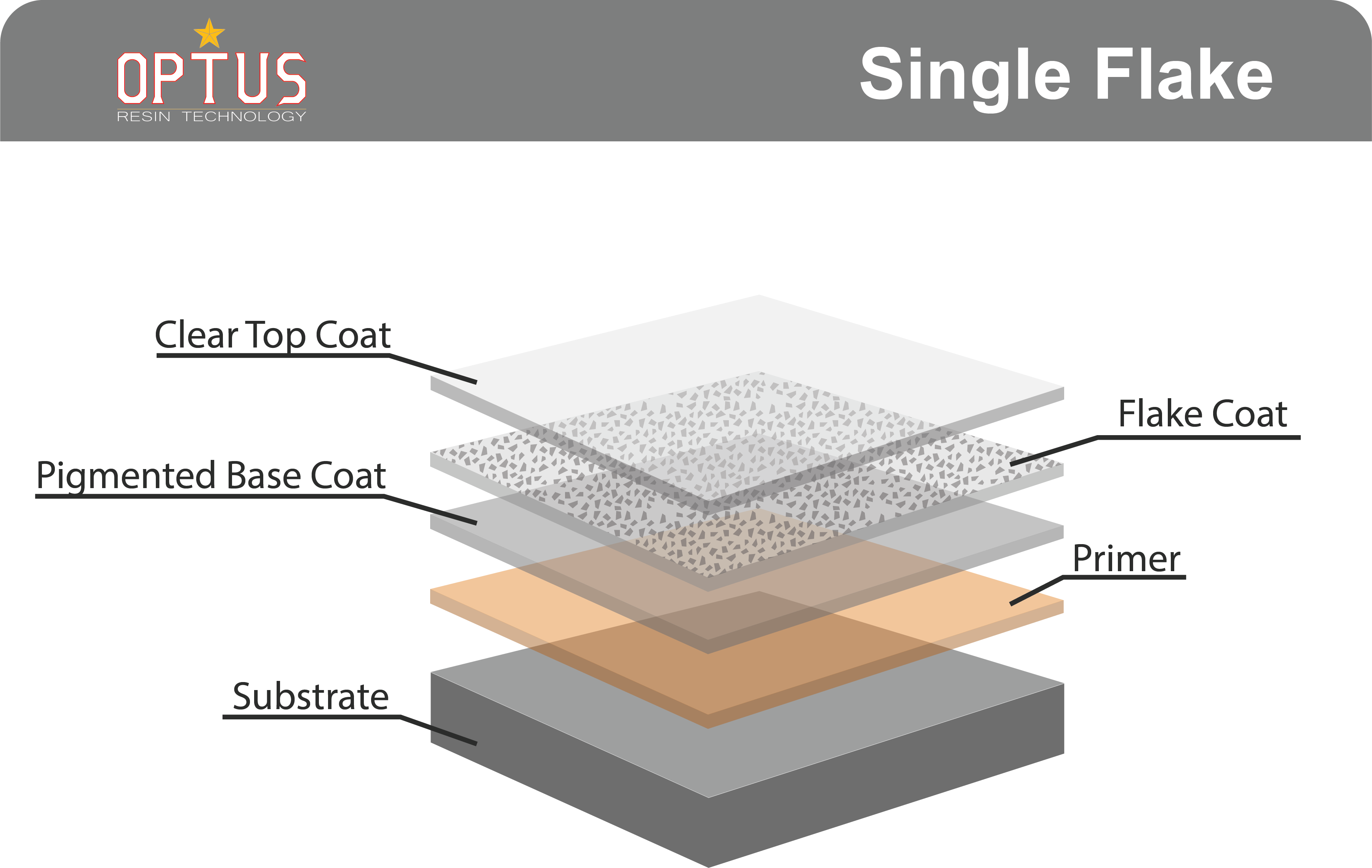 ---
---
A single broadcast flake system will give a vibrant, seamless, resilient surface to any Garage or Commercial Building, with the added benefit of being easy to maintain and added slip resistance.
---
---
A Double broadcast flake system will provide a vibrant, seamless, resilient surface, the extra layer of flake and epoxy will give and extra layer of protection and give your floor the best durability and optimal appearance with added noise reduction.